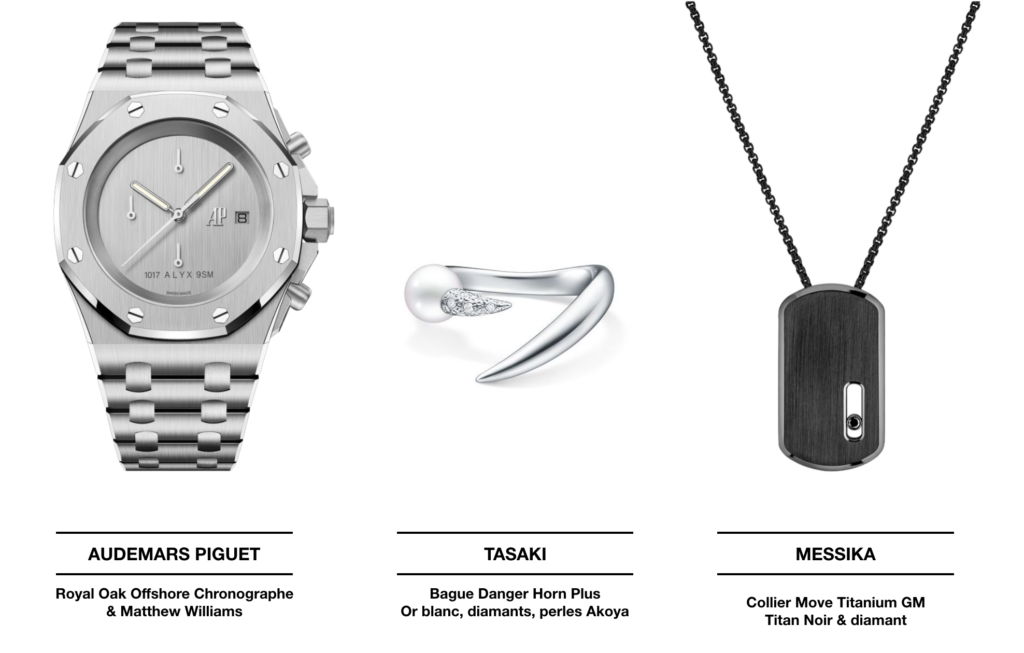 Royal Oak Offshore Chronographe Automatique en collaboration avec Matthew Williams, fondateur de la marque 1017 ALYX 9SM AUDEMARS PIGUET; Collier Move Titanium GM en titane noir et diamant MESSIKA; Bague Danger Horn Plus en or blanc, diamants et perle Akoya TASAKI.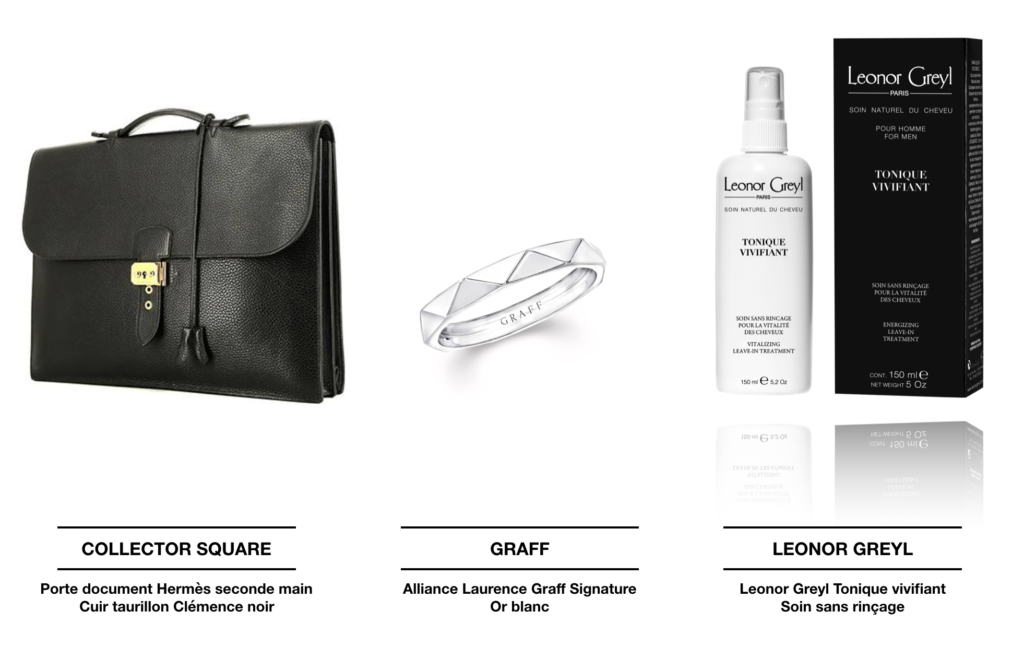 Porte-documents Hermès de seconde main en cuir taurillon clémence noir COLLECTOR SQUARE; Alliance Laurence Graff Signature en or blanc GRAFF; Tonique Vivifiant, soin sans rinçage LEONOR GREYL.
Bracelet en argent tressé OLE LYNGGAARD COPENHAGEN; Mini cabas en cuir made in Paris GRAF PARIS; Bague lettre en or blanc et diamants MIO HARUTAKA.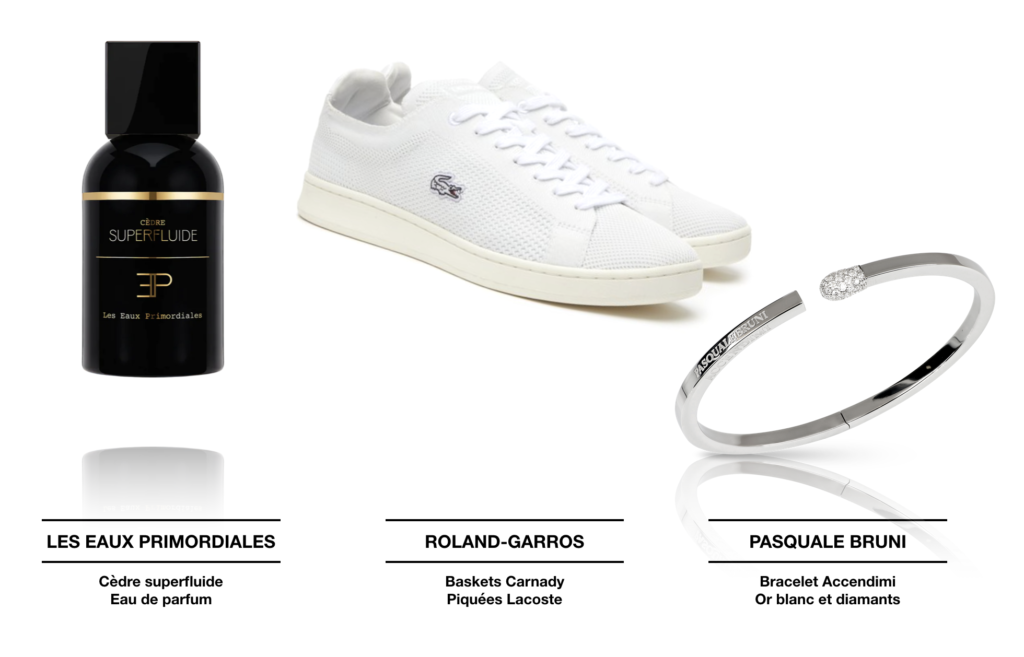 Parfum Cèdre Superfluide LES EAUX PRIMORDIALES; Baskets Carnaby piquée Lacoste ROLAND-GARROS; Bracelet Accendimi en or blanc et diamants PASQUALE BRUNI.
Plus d'informations et de choix sur le sites internet :
Crédits photos : © Collector square – Hermès © Roland Garros – Lacoste © Les Eaux Primordiales © Pasquale Bruni © Ole Lynggaard Copenhagen © Mio Harutaka © Graf Paris © Graff © Leonor Greyl © Audemars Piguet © Tasaki © Messika
Selection by :Alexandre Joulia-Helou, photographer and deputy editor of AMILCAR MAGAZINE GROUP.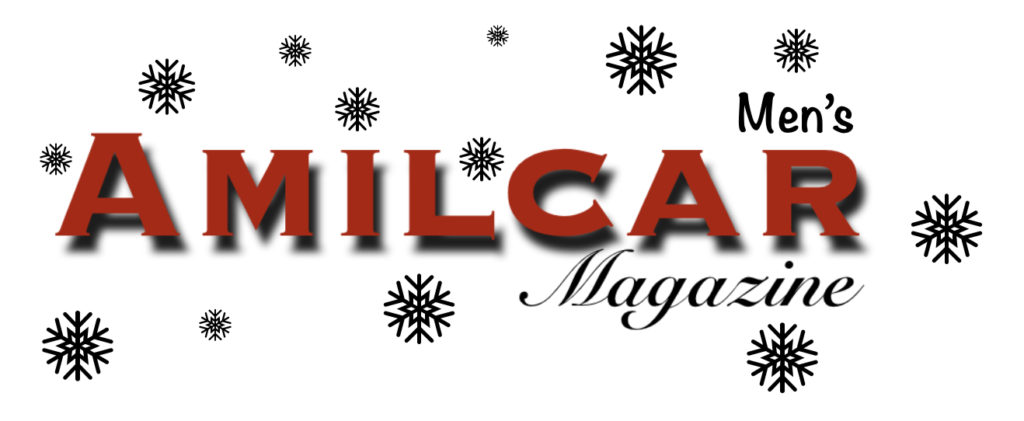 AMILCAR MAGAZINE to discover on Linktr.ee : https://linktr.ee/amilcarmagazine

Publishers:
Rachel Joulia-Helou, editor-in-chief of AMILCAR MAGAZINE GROUP.
Alexandre Joulia, photographer and deputy editor of AMILCAR MAGAZINE GROUP.

More information about AMILCAR USA – AMILCAR CANADA – AMILCAR UK MAGAZINE :
AMILCAR MAGAZINE GROUP :
AMILCAR MAGAZINE & THE RIGHT MAGAZINE ISSUE :
AMILCAR CLUB GROUP :
Discover our brands in the windows of the Club Amilcar on B Signature Group:
Discover our members in the windows of the Melià Paris Opéra hotel: Hôtel Paris Opéra Affiliated by Melia :
Address in Paris :  3 Bd Montmartre, 75002 Paris – click here